Zu Ihrer Sicherheit und der weiteren Eindämmung des Coronavirus finden alle Veranstaltungen unter Einhaltung der gesetzlichen Vorschriften statt. Bitte beachten Sie die Hygienemaßnahmen vor Ort.
Tito & Tarantula - "8 Arms to hold you Tour 2022"
Tito & Tarantula &nbsp
Geschwister-Scholl-Platz 4-6
42275
Wuppertal
Event organiser:
Live Club Barmen, Geschwister-Scholl-Platz 4-6, 42275 Wuppertal, Deutschland
Die Veranstaltung ist leider abgesagt.
Event info
Dear fans, dear local partners - we need to talk!

After a very successful first tour in 2019 we had to postpone the second part of the "Tito & Tarantula-8 arms to hold you Tour" (39 shows in Germany, Austria and Switzerland) from fall 2020 to fall 2021 and then another time to fall 2022.
In 2020 and 2021 it was the pandemic keeping us from traveling to europe. In 2022 it is a bit different. Like millions of other people some band members suffering from long term consequences of a Covid-disease since end of 2021. Since beginning of 2022 we waited how the situation is developing. It did not improve much and we need to make a decision now.

We will not postpone once again. Unfortunately we need to cancel the "Tito & Tarantula- 8 arms to hold you Tour -2022" today.
Needless to say we are very sorry. Our partners (The Living proof agency/Govinda artist service/ It-sounds/Mühle der Freundschaft) worked hard to keep the fire burning. If circumstances permit and the situation is improving we will start making plans for touring in Europe in 2023.

JupiterXRecords
Management - representation of TITO & TARANTULA
Event location
Haus der Jugend Barmen / Live Club Barmen
Geschwister-Scholl-Platz 4-6
42275 Wuppertal
Germany
Plan route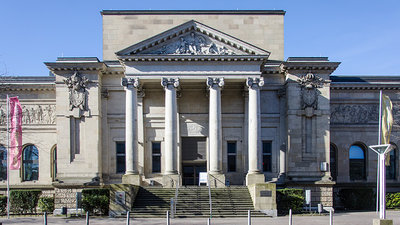 Im Haus der Jugend ist immer was los: Ein abwechslungsreiches Programm bietet allen Altersgruppen spannende Veranstaltungen aus den Bereichen Konzert, Theater, Literatur und Kabarett.

Das Haus der Jugend befindet sich in der ehemaligen Barmer Ruhmeshalle im Wuppertaler Stadtteil Barmen. Ende des 19. Jahrhunderts erbaut, glänzt das Gebäude im Stil der Neorenaissance und gibt den Veranstaltungen des Hauses einen entsprechend feierlichen Rahmen. Neben dem Haus der Jugend befinden sich dort Ausstellungsräume der Kunsthalle Barmen, die Barmer Stadtbibliothek und der Live Club Barmen. Das Haus der Jugend widmet sich ganz seinem kulturellen Auftrag. Theaterprojekte mit Kindern und Jugendlichen, Tanzevents oder Konzerte sind nur einige der zahlreichen Veranstaltungen, die angeboten werden. Als Kulturzentrum fungiert das Haus der Jugend als Plattform für alle, die Spaß an Kultur haben und sich gerne in der Kulturarbeit engagieren möchten. Im Vordergrund steht dabei die Qualität der Veranstaltungen, die durch bezahlbare Preise allen Interessierten die Möglichkeit gibt, am kulturellen Leben in Barmen teilzunehmen.

Das Haus der Jugend bietet das ganze Jahr über ein facettenreiches Angebot, bei dem Filmfreunde, Musikfans und Theaterenthusiasten gleichsam auf ihre Kosten kommen!