Zu Ihrer Sicherheit und der weiteren Eindämmung des Coronavirus finden alle Veranstaltungen unter Einhaltung der gesetzlichen Vorschriften statt. Bitte beachten Sie die Hygienemaßnahmen vor Ort.
Popa Chubby (US) - Emotional Gangster – Tour 2022
POPA CHUBBY (US) &nbsp
Geschwister-Scholl-Platz 4-6
42275
Wuppertal
Event organiser:
Live Club Barmen, Geschwister-Scholl-Platz 4-6, 42275 Wuppertal, Deutschland
Event info
Twelve new tracks featuring The Chubbfatha on many instruments and doing all the mixing and recording. "This record definitely reflects happier times and good solid dose of classic blues!", says Popa from his studio full of guitars in the Hudson Valley. "I specifically included covers like Hoochie Coochie Man and Dust My Broom to show respect for the Fathers. Willie Dixon has always been my idol."
But the real gems here come in Popa's original compositions. "Equal Opportunity" is a light hearted sing along that celebrates the feminine at a time when it is seriously needed. And songs like "Fly Away" and both versions French and English of "Why You Wanna Make War?" are big standouts! There is more than an ample amount of pure guitar bliss on this record and slide guitar on tracks like "Tonight I'm Gonna Be the Man" add flavor to a savory mix!
Photocredit: Phillip Ducap
Event location
Haus der Jugend Barmen / Live Club Barmen
Geschwister-Scholl-Platz 4-6
42275 Wuppertal
Germany
Plan route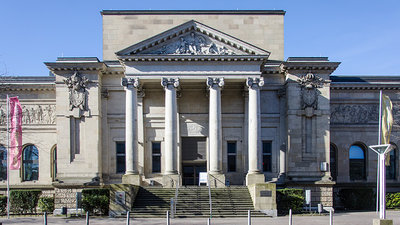 Im Haus der Jugend ist immer was los: Ein abwechslungsreiches Programm bietet allen Altersgruppen spannende Veranstaltungen aus den Bereichen Konzert, Theater, Literatur und Kabarett.

Das Haus der Jugend befindet sich in der ehemaligen Barmer Ruhmeshalle im Wuppertaler Stadtteil Barmen. Ende des 19. Jahrhunderts erbaut, glänzt das Gebäude im Stil der Neorenaissance und gibt den Veranstaltungen des Hauses einen entsprechend feierlichen Rahmen. Neben dem Haus der Jugend befinden sich dort Ausstellungsräume der Kunsthalle Barmen, die Barmer Stadtbibliothek und der Live Club Barmen. Das Haus der Jugend widmet sich ganz seinem kulturellen Auftrag. Theaterprojekte mit Kindern und Jugendlichen, Tanzevents oder Konzerte sind nur einige der zahlreichen Veranstaltungen, die angeboten werden. Als Kulturzentrum fungiert das Haus der Jugend als Plattform für alle, die Spaß an Kultur haben und sich gerne in der Kulturarbeit engagieren möchten. Im Vordergrund steht dabei die Qualität der Veranstaltungen, die durch bezahlbare Preise allen Interessierten die Möglichkeit gibt, am kulturellen Leben in Barmen teilzunehmen.

Das Haus der Jugend bietet das ganze Jahr über ein facettenreiches Angebot, bei dem Filmfreunde, Musikfans und Theaterenthusiasten gleichsam auf ihre Kosten kommen!