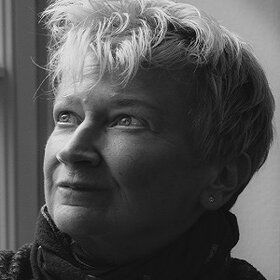 Anlässlich des 40. Jubiläums ihres Hitsongs "Sleeper In Metropolis" kommt die britische Poetin Anne Clark 2023 ein weiteres Mal nach Deutschland. Innerhalb der "Together Again"-Tour werden ihre größten Hits, Gedichte und andere Songs aus vier Jahrzehnten Karriere erklingen. Sichern Sie sich jetzt Ihre Tickets und freuen Sie sich auf einen Abend zwischen Post-Punk, New-Wave und Elektro-Musik.

Zweifellos ist Anne Clark eine Ikone der Musikgeschichte. Als Pionierin der Spoken-Word-Kunst, des New Wave und der elektronischen Musik hat sie Generationen von Künstlerinnen und Künstlern geprägt. Ihr experimenteller Sound und der charakteristische lyrische Sprechgesang machen sie und ihre Arbeit unsterblich. "Our Darkness" und "Sleeper in Metropolis" stehen stellvertretend für ihren grandiosen Erfolg.

Anne Clark startete ihre Karriere in den späten 70er-Jahren, geprägt von der Punk-Szene. Das erste Album "The Sitting Room" erschien 1982, gefolgt von Platten wie "Changing Places" und "Just After Sunset – The Poetry of Rainer Maria Rilke" im Jahre 1998. Nach der Jahrundertwende erschien "The Smallest Acts of Kindness" 2008 und "Homage – The Silence Inside" 2018. Im Laufe der Jahre veränderte sie ihren Stil stetig und arbeitete in ihrer Band mit vielen Musikerinnen und Musikern zusammen. Seit 2018 lässt der Film "I'll Walk Out Into Tomorrow" tiefe Einblicke in ihre Biografie und ihr Schaffen zu.

Anne Clark begeistert seit Jahrzehnten mit handfester Poesie, existenziellen Lyrics und akustischen Experimenten. All das mit einer Virtuosität, die ihresgleichen sucht. Jetzt Tickets bei Reservix holen!
Source: Reservix